INFORMATION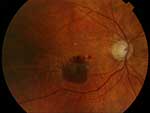 A Retinal Detachment is when the retina become detached from the choriod.

The choriod is a thin blood vessel that provides oxygen and nutrients to the retina.

If a detachment occurs it is a medical emergency because vision can be lost permanently if not reattached.

Surgery is the only treatment for a retinal detachment.

There are numerous surgical options depending on the size and type of detachment.